This is the eighth of a series of posts about SQA, my pet audio project. I'm rebuilding it from the ground up, for reasons explained here.
Commit log
Changes in detail
Yes, I haven't made a post about this project in quiiiite a long time. My bad. (To be honest, I told you last time that I was bad at this.) However, I do have some pretty exciting improvements & news to make up for that with:
SQA now has a user interface! (again).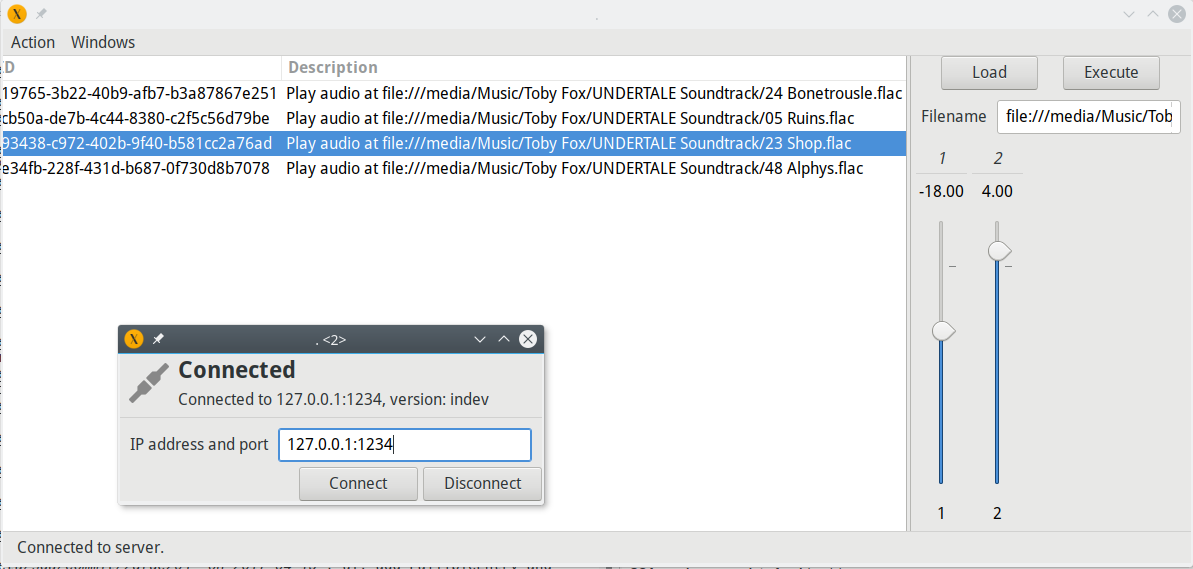 So yeah, that's pretty useful and something we sort of need to make this whole thing work. It uses GTK+ (just like SQAv1), because I couldn't find anything better, but this time, it's actually user-friendly:
we take advantage of normal UI features like menus (gasp) and keyboard shortcuts (scream)
we have a cool sidebar thing, rather like QLab, where you can edit stuff with pretty sliders and text boxes (instead of a weird command line)
if they so desire, users can edit multiple actions at once by using the 'edit separately' function (wow, an improvement over QLab!)
The code has been kept in a relatively reasonable state this time - last time in SQAv1, we used lots of Rc<RefCell<T>>s to share state around, which ended up being ugly and error prone. Now, we just pass messages around! Yay for message-passing! There isn't a single RefCell in sight (there is one Cell, for the mixer widget, but that's it).
It's important to note, however, that not everything is message-passed - we do employ shared state for things like widgets, where it's easier to do that than to pass a message. (This sets SQA's design apart from libraries like relm, which are message-passing-only.)
The addition of a UI to edit stuff (as opposed to, err, sending OSC commands in a terminal) meant that we had to write a whole bunch of parser code to serialise and deserialise commands & replies into/from OSC messages. About halfway through that effort, I gave up and automated it using Rust's new custom derive stuff: basically, you now pepper your message struct with a whole bunch of #[oscpath="/path/here"] and similar annotations, and it's done.
---
That's it for this week; tune in in a few weeks' time for the next edition!